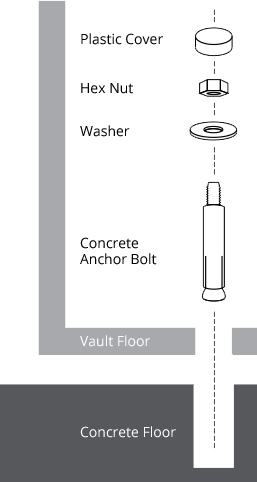 (NOTE: For Model Numbers WC-7-11 or GC-7-11, please use a ½" concrete drill bit and a 17mm socket and ratchet with included concrete anchor bolts. If, concrete anchor bolts are not included, we recommend you use ½" by 3" length concrete anchor bolts that can be purchased at a hardware or home improvement store.)
Step 1
Place the safe in the desired location. Make sure the safe is level on the floor. Use shims to level safe.
Step 2
Remove black caps from the carpeted base piece on the inside floor of the safe; this will allow you to access the pre-drilled bolt down holes.
Step 3
Using your hammer drill and 5/8" concrete drill bit, drill holes in the concrete floor. Insert the included (or purchased) concrete anchor bolts into the drilled holes through the bolt down holes on the inside floor of the safe.
Step 4
Drive concrete anchor bolts into the floor with hammer and tighten the nut on the anchor with a 19 mm socket and ratchet. Doing this will expand the sleeve of the concrete anchor bolt and secure the anchor bolt into the concrete floor.
Step 5
Place the black caps back into the holes located on the inside floor of the safe.
The instructions above are for anchoring the safe to a concrete floor ONLY. If the safe is to be anchored to the floor with carpet or wood, Granite Security Products, Inc. assumes no liability for any damages that may occur during this process. If you are anchoring the safe to a carpet or wood floor, please take the necessary steps to cut a small hole in the carpet in order to prevent the drill bit from catching or for pre-drilling pilot holes in the wood floor. You will need to purchase appropriate lag screws from a hardware or home improvement store to secure safe to wood floor.
Buy your Vault & Gun Safe Anchor Kit, which contains everything you need to securely anchor your safe.